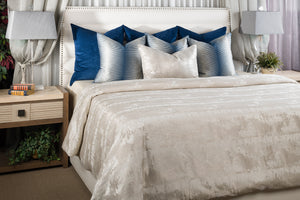 Resort Bedding that wraps you in Luxury every night.
Whether it's the Cliff Lodge at Snowbird or the Little America Hotel in downtown Salt Lake City - we've created all of their exquisite duvets and coverlet sets, and now you can own this bit of luxury for yourself.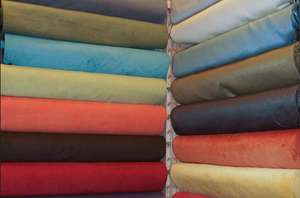 Premium Bedding, Drapery and Fabric
K&R Interiors is the premier custom bedding, drapery, and fabric company in Utah, Idaho and Wyoming. With clients like the Cliff Lodge at Snowbird, Alta's Rustler Lodge and even the Holland America Cruise Ships - our handmade bedding sets are the best in the world (we've even won awards to prove it!). 
Made in the USA with only the best velvets, chenille, tapestry, and combed cotton imported worldwide from the very best artisans.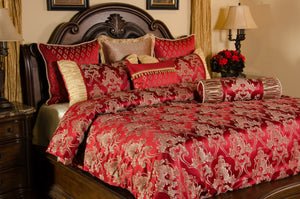 Quality that Lasts
Wrap your loved ones in uniquely soft and comfortable bedding that looks new even 5 years later. It won't fray or lose its color. Your skin can feel the difference - it's soft, durable, and will not break down over time.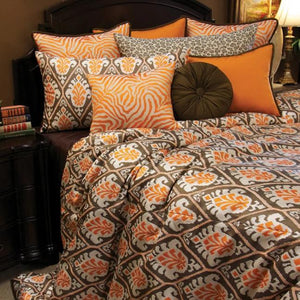 Built in the USA
Master seamstresses build your perfect night of sleep from our family-owned workshop in Salt Lake City. With the finest cotton from Egypt, the best textiles from Turkey, and much more, for the premium quality, you can feel. 
Looking for that perfect non-standard, custom style or size (bigger or smaller), we have you covered!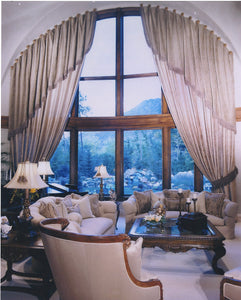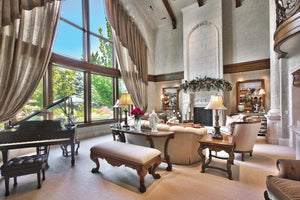 Drapery— Romans Shades and Specialty Valance
Call Kathy for pricing